Types of fishing freshwater and saltwater. Matching fishing accessories for Speciment Hunter. Use our other filter options and search for your order in the Fish-tackle.eu shop. If you have any questions, our customer service will be happy to advise you. You are now in the category:

Cheburashka
Cheburashka Rig Zubehörteile, Tackle Tipps und Komplettpakete, jetzt hier bei Fish-Tackle.eu. Wir sind dein Nummer 1 Cheburashka Rig und Jig Partner im Netz. Du findest hier spezielle Cheburashka Rig Haken, Jigs und die besonderen Cheburashka Rig Bleiköpfe zum Angebotspreis. Natürlich haben wir auch die passenden Angelruten und Angelrollen zum Angeln mit dem Cheburashka Rig im großen Raubfisch Sortiment.
---
High-quality fishing tackle sorted and selected to match the most popular types of fishing. Use the categories for navigation.
---
Snaps, Bleiköpfe, Shads, Haken - alles was das Cheburashka Anglerherz begehrt. Übersichtlich sortiert und garantiert zu einem günstigen Preis. Nutze die Filterfunktionen und oder die Suche, so dass du schnell und zielgerichtet dein Cheburashka Angelzubehör findest. Gerne beraten wir dich bei allen offen Fragen zum optimalen Tackle und den besten Einsatzmöglichkeiten des Cheburashka Jigs plus die verschiedenen Rigvarianten.
Cheburashka Raubfischangeln
Das neue Cheburashka Rig ist eine sehr erfolgreiche Montage zum gezielten Angeln auf Raubfische wie zum Beispiel Zander, Hecht und Barsch. Es besteht aus ein paar wenigen Spezialteilen und eröffnet dem Angler neue Möglichkeiten zur Köderpräsentation. Sehr verbreitet ist das Cheburashka Rig unter Street Anglern und der jüngeren modernen Generation von Spinnfischern.
Das Angeln auf Raubfische mit dem Cheburashka Rig macht Spass und findet immer mehr Anhänger. Wir erklären dir hier den Aufbau des Cheburashka Rigs, und zeigen dir die erfolgreichsten Cheburashka Jig Angelköder. Die Cheburashka Angeltechnik ist sehr flexibel und hat inzwischen viele verschiedene Unterformen in den Rigarten und Einsatzgebieten gefunden.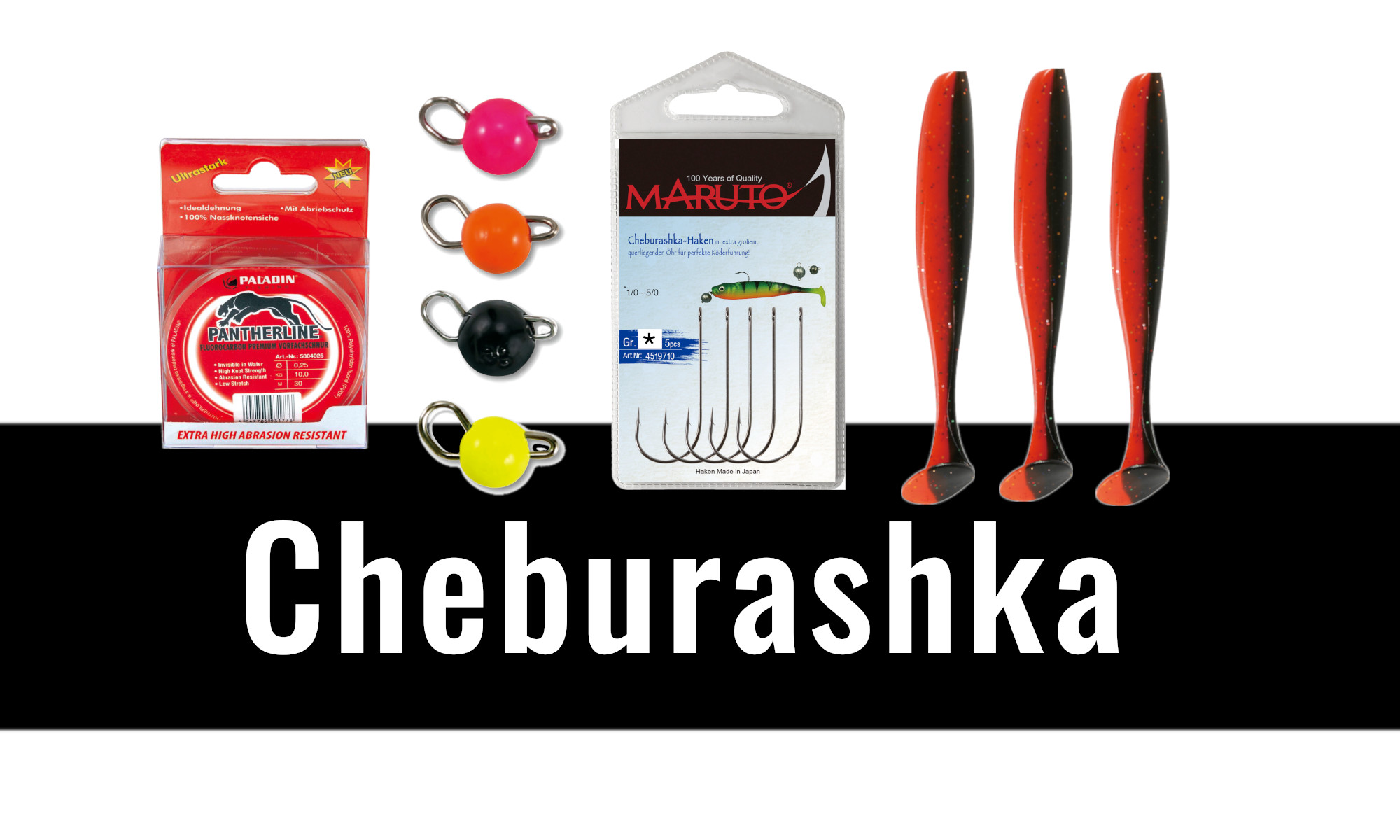 Zander und Barsche sieht man besonders oft auf den Fangfotos der erfolgreichen Cheburashka Angler. Hechte, Forellen, kleine Welse, Barben, Meerbarsche und viele weitere lassen sich ebenfalls sehr gut mit Cheburashka Jig Baits verleiten. Sowohl im Süß- wie auch im Salzwasser funktioniert die moderne Montage. Vom Boot oder vom Ufer, die Möglichkeiten sind beinah begrenzt.
Lerne jetzt hier alles zum erfolgreichen Angeln mit dem Cheburashka Rig auf Raubfische aller Arten.
Cheburashka Rig Einzelteile
Jedes Cheburashka Rig besteht aus mehreren Einzelteilen, welche flexibel zueinander austauschbar sind. Man kann Hakengrößen, Gewichte und Köder einfach variieren. Ob man nun lieber ein besonders leichtes Cheburashka Rig zum Ultra Light Angeln einsetzt. Oder eine sehr robuste Cheburashka Variante mit toten Köderfischen auf Wels ausprobiert, dass bleibt den Möglichkeiten und den Vorzügen eines jedem einzelnen Sportfischers überlassen.
Wir erklären hier den Aufbau und die Einzelteile von einem globalen Cheburashka Rig zum Angeln auf Raubfische mit Kunstködern. Im Netz finden sich viele weitere Varianten. Grundlegenden empfehlen wir die folgenden Einzelteile zur fachgerechten Montage eines fängigen Cheburashka Rigs:
Fluorocarbon Vorfach gequetscht mit Snap zum einhaken
Cheburashka Blei / Tungsten lackiert oder einfach
Cheburashka Haken regulär oder Offset
Softbait längliche Form / no Action Shad / Gummiköder
Ein gutes Fluorocarbon Vorfach verhindert Verwicklungen und schützt beim Anbiss eines großen Raubfisches vor ärgerlichen Verlusten. Des weiteren unterstützt es die gute Arbeit des Köders im Wasser und eine entsprechend verführerische Bewegung.
Die Cheburashka Bleie besten in der Regel aus einem Kugelblei mit zwei Verbindungsstücken. Im Gegensatz zu einem gewöhnlichen Gummifischbleikopf ist das Blei vom Cheburashka Rig flexibel. Es formt eine bewegliche Verbindung zum Köder. Der Bait kann sich 100% frei bewegen.
Unsere heißen Sofbaits passen sehr gut auf reguläre langschenkelige Haken. Pünktlich zum Saisonstart 2021 findet ihr bei uns extra scharfe Cheburashka Haken in allen Grössen. Falls du deine Baits lieber amerikanisch fischt, dann empfehlen sich sogenannte Offset Haken sehr. Feinripp Baits und Glücksgummis passen super zum heissen Rig.
Falls du schon ein wenig Vorerfahrung mit dem Cheburashka Rig und den Jigbaits hast, dann ist ein Versuch mit einem zusätzlichen Spinnerblatt zwischen Blei und Vorfach ein Versuch wert. Dazu eignen sich farbige Perlen als Extra Attractors sehr gut.
Angeltechnik Cheburashka Rig
Das Angeln mit dem Cheburashka Rig erfordert einen guten Kontakt zum Köder und entsprechend feinfühliges Tackle. Man sollte das absteigen des Köders, sowie jeden Bodenkontakt gut merken und den Köder gut durch das Wasser dirigieren können.
Um die Auswahl zum perfekten Cheburashka Rig Tackle etwas zu erleichtern, haben wir gleich die besten Ruten und Rollen sowie weiteres Zubehör in die Cheburashka Kategorie hier mit eingefügt. Ob du nun lieber gewöhnliche Nylonschnur, oder doch lieber eine geflochtene Hauptschnur benutzt, das ist vor allem von deinem Spot abhängig. Vom Ufer empfehlen wir eine Schnur mit einem guten Abriebschutz. Unter Umständen hast du viel Kontakt mit Unterwasserhindernissen.
Mit einem Cheburashka Rig sucht man die unteren Wasserschichten ab. Ganz modern sind schwerelos Cheburashkas für mittlere Wasserschichten. Man kann das Cheburashka Rig vertikal unter dem Boot oder vor den Füssen beim Streetfishing anbieten. Oder vom Ufer ganz ähnlich einem Gummifische oder Twister mit Bleikopf. Auch die Köderführen des Cheburashka Rigs ist nicht viel anders.
Nach dem Aufkommen auf dem Grund hebt und senkt man die Rute mit leichten Kurbelumdrehung auf der Rolle. Der Bait kann sich frei bewegen und tanzt vor dem Cheburashka Blei durch das Wasser. Er ähnelt dabei sehr einem angeschlagenen kranken Fisch.