Types of fishing freshwater and saltwater. Matching fishing accessories for Speciment Hunter. Use our other filter options and search for your order in the Fish-tackle.eu shop. If you have any questions, our customer service will be happy to advise you. You are now in the category:
---
High-quality fishing tackle sorted and selected to match the most popular types of fishing. Use the categories for navigation.
---
Trout fishing is very popular and also very diverse. There is no such thing as a classic trout angler. One trout fisherman calls a fine stream his home waters when fishing for trout. The next trout angler prefers to fish in the trout lake and loves it a little more comfortably. Then there are the very sporty sea trout anglers, and here and there a few real trout professionals when it comes to trolling from a boat on a dam.
Trout fishing
Depending on the body of water, trout are not the easiest fish. It is especially the large wild trout that make trout fishing so attractive. Whether it is a rainbow trout, a brown trout, a salmon trout or a sea trout. All trout have one thing in common. They are also excellent sport fish, and also very good food fish. Two reasons that make trout fishing so widespread and popular.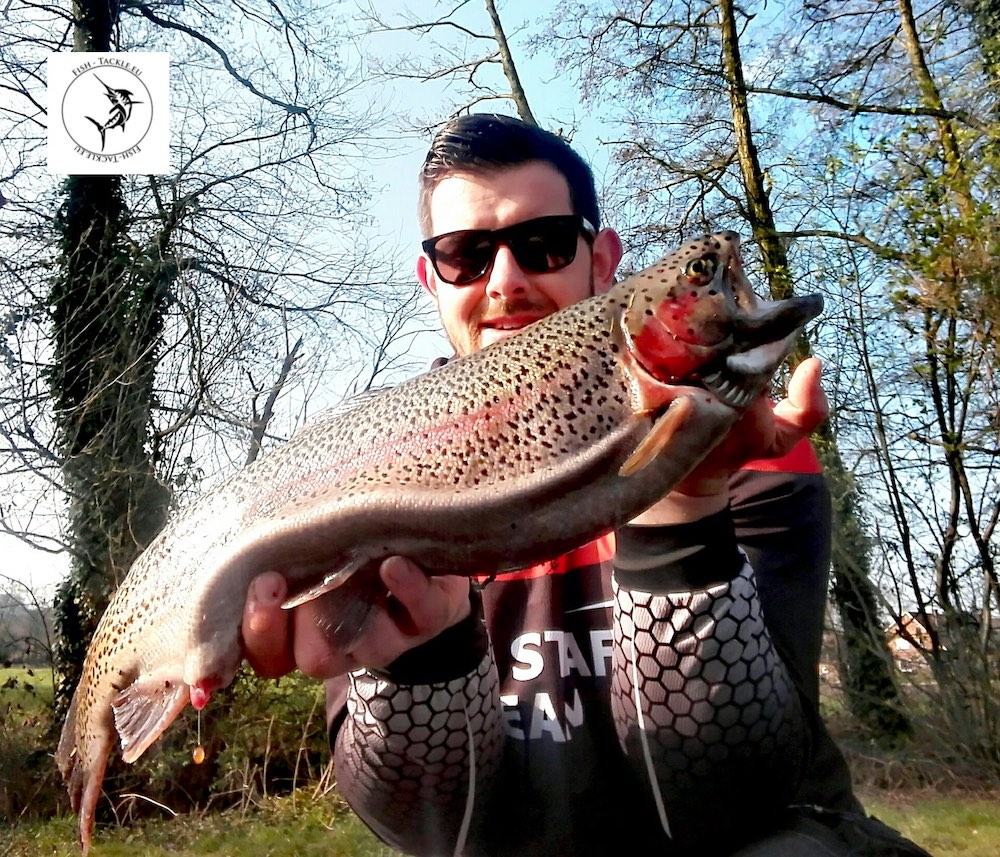 Trout fishing - Rene Wiese 2021 Steinfeld Germany

Beginners at a trout lake have just as much catching a beautiful trout as all experienced anglers with a fly rod at the most unusual fishing spots in Europe. Our customers catch trout in the mountains of the Basque Country, in the Rheinischen- and Bergisches Land, in Holland and Luxembourg - almost everywhere and in every form of water imaginable.
The extra large selection of spoons for trout fishing is brand new. Whether Ultra Light Spoon, Continuous Flasher Spoon or extra heavy and narrow flowing water Spoon; We at Fish-Tackle.eu have the largest selection of trout spoons on the net. If you would like to add certain colors to your trout spoon set, please send us an email. Often we can combine different colors from one model to a set of 10 x.

In addition to the hot and new trout spoon offers, we offer all the items that the modern (competitive) trout angler could want. Many well-known trout anglers from Europe order the small parts for the most catchy trout rigs here. We offer specially designed fishing rods and other accessories to match the modern trout fishing equipment. Many of the trout fishing articles come straight from the hands of Italy's greatest trout anglers.
If you like, you can search for the term: "Tremarella" here in the shop.
The best two montages for trout fishing
Trout can be shy and difficult to catch. On days when the trout don't feel like biting, an attractive assembly is particularly important. Here we show you the two most attractive assemblies for trout fishing.

A rig is for float fishing with a standing rig. Live maggots, for example, are very suitable as bait. The float is a modification of a Japanese model, which can be fished without extra weight. The bulbous shape lets the floating bait play very seductively through the waves.
Assembly number two is a rig for active trolling. With a modern fixed float, you won't miss a bite. The slim long shape guarantees that the pose glides elegantly through the water when it is retrieved.
Up here in the fishing video for the two most catchy trout assemblies you can see exactly how you can assemble the rigs and which individual parts you need. If you have any questions, our customer service team will be happy to advise you. We are all avid trout anglers and are happy to share our experiences with you. We are happy to recommend our own category with the best fishing lures for trout fishing.