{"images":{"all":[{"names":[],"urlMiddle":"https:\/\/cdn02.plentymarkets.com\/luxn8kd69vu5\/item\/images\/6036\/middle\/p50-7.jpg","position":0,"path":"S3:6036:p50-7.jpg","cleanImageName":"p50-7.jpg"}],"variation":[]},"item":{"id":6036,"storeSpecial":null,"manufacturerId":15,"itemType":"default","manufacturer":{"id":15,"name":"PALADIN","logo":"","url":"","street":"","email":"","position":0,"pixmaniaBrandId":0,"neckermannBrandId":0,"externalName":"PALADIN","neckermannAtEpBrandId":0,"postcode":"","houseNo":"","town":"","countryId":0,"phoneNumber":"","faxNumber":"","laRedouteBrandId":0,"comment":"","updatedAt":"2019-11-16T13:31:33+01:00","nameExternal":"PALADIN"},"rebate":0,"salableVariationCount":1,"customsTariffNumber":"","producingCountry":{"names":[]},"condition":{"names":[]}},"texts":{"name2":"","lang":"en","urlPath":"sports-outdoors\/fishing\/accessories\/various-parts\/swivels-snaps\/catstone-running-lead-125-gr-black-10-cm-100-pieces-10x10","name3":"","name1":"Catstone Marble lead 125 gr \/ black \/ 10 cm \/ 10 pieces"},"defaultCategories":[{"updatedAt":"2022-12-25T14:20:23+01:00","level":5,"id":96,"linklist":true,"parentCategoryId":72,"right":"all","type":"item","sitemap":true,"manually":true,"plentyId":45113}],"variation":{"itemId":6036,"availabilityId":3,"maximumOrderQuantity":null,"minimumOrderQuantity":1,"intervalOrderQuantity":1,"releasedAt":null,"name":"","vatId":0,"bundleType":null,"mayShowUnitPrice":false,"availability":{"id":3,"icon":"av3.gif","averageDays":3,"createdAt":"2019-08-07 11:09:01","updatedAt":"2019-09-16 18:12:45","names":{"id":182,"availabilityId":3,"lang":"en","name":"Delivery 2 - 3 days","createdAt":"2021-11-22 21:10:29","updatedAt":"2021-11-22 21:10:29"}},"id":6967,"availabilityUpdatedAt":"2020-04-13T20:17:24+02:00","model":""},"filter":{"isSalable":true,"isSalableAndActive":true,"hasActiveChildren":false,"hasChildren":false},"unit":{"names":{"unitId":1,"lang":"en","name":"piece"},"unitOfMeasurement":"C62","content":1},"hasOrderProperties":false,"hasRequiredOrderProperty":false,"properties":[],"groupedAttributes":[],"prices":{"default":{"price":{"value":122.4,"formatted":"EUR\u00a0122.40"},"unitPrice":{"value":122.4,"formatted":"EUR\u00a0122.40"},"basePrice":"","baseLot":null,"baseUnit":null,"baseSinglePrice":null,"minimumOrderQuantity":1,"contactClassDiscount":{"percent":0,"amount":0},"categoryDiscount":{"percent":0,"amount":0},"currency":"EUR","lowestPrice":{"value":null,"formatted":""},"vat":{"id":0,"value":23},"isNet":false,"data":{"salesPriceId":6,"price":122.4,"priceNet":99.512195121951,"basePrice":122.4,"basePriceNet":99.512195121951,"unitPrice":122.4,"unitPriceNet":99.512195121951,"lowestPrice":null,"lowestPriceNet":null,"customerClassDiscountPercent":0,"customerClassDiscount":0,"customerClassDiscountNet":0,"categoryDiscountPercent":0,"categoryDiscount":0,"categoryDiscountNet":0,"vatId":0,"vatValue":23,"currency":"EUR","interval":"none","conversionFactor":1,"minimumOrderQuantity":"1.00","updatedAt":"2022-05-10 20:13:17","type":"default"}},"rrp":{"price":{"value":133,"formatted":"EUR\u00a0133.00"},"unitPrice":{"value":133,"formatted":"EUR\u00a0133.00"},"basePrice":"","baseLot":null,"baseUnit":null,"baseSinglePrice":null,"minimumOrderQuantity":0,"contactClassDiscount":{"percent":0,"amount":0},"categoryDiscount":{"percent":0,"amount":0},"currency":"EUR","lowestPrice":{"value":null,"formatted":""},"vat":{"id":0,"value":23},"isNet":false,"data":{"salesPriceId":2,"price":133,"priceNet":108.13008130081,"basePrice":133,"basePriceNet":108.13008130081,"unitPrice":133,"unitPriceNet":108.13008130081,"lowestPrice":null,"lowestPriceNet":null,"customerClassDiscountPercent":0,"customerClassDiscount":0,"customerClassDiscountNet":0,"categoryDiscountPercent":0,"categoryDiscount":0,"categoryDiscountNet":0,"vatId":0,"vatValue":23,"currency":"EUR","interval":"none","conversionFactor":1,"minimumOrderQuantity":"0.00","updatedAt":"2022-05-10 20:13:17","type":"rrp"}},"set":null,"specialOffer":null,"graduatedPrices":[]},"facets":[],"attributes":[]}

Catstone Marble lead 125 gr / black / 10 cm / 10 pieces

{"images":{"all":[{"names":[],"path":"S3:17244:p50-7.jpg","position":0,"urlMiddle":"https:\/\/cdn02.plentymarkets.com\/luxn8kd69vu5\/item\/images\/17244\/middle\/p50-7.jpg","cleanImageName":"p50-7.jpg"}],"variation":[]},"item":{"id":17244,"storeSpecial":{"id":2,"names":{"lang":"en","name":"New item"}},"manufacturerId":15,"itemType":"default","manufacturer":{"id":15,"name":"PALADIN","logo":"","url":"","street":"","email":"","position":0,"pixmaniaBrandId":0,"neckermannBrandId":0,"externalName":"PALADIN","neckermannAtEpBrandId":0,"postcode":"","houseNo":"","town":"","countryId":0,"phoneNumber":"","faxNumber":"","laRedouteBrandId":0,"comment":"","updatedAt":"2019-11-16T13:31:33+01:00","nameExternal":"PALADIN"},"rebate":0,"salableVariationCount":1,"customsTariffNumber":"","producingCountry":{"names":[]},"condition":{"names":[]}},"texts":{"name3":"","name2":"","urlPath":"catstone-running-lead-125-gr-black-10-cm","lang":"en","name1":"Catstone running lead 125 gr \/ black \/ 10 cm \/ 1pc"},"defaultCategories":[{"updatedAt":"2022-12-25T14:20:23+01:00","level":5,"id":96,"linklist":true,"parentCategoryId":72,"right":"all","type":"item","sitemap":true,"manually":true,"plentyId":45113}],"variation":{"itemId":17244,"availabilityId":3,"maximumOrderQuantity":null,"minimumOrderQuantity":1,"intervalOrderQuantity":1,"releasedAt":null,"name":"","vatId":0,"bundleType":null,"mayShowUnitPrice":false,"availability":{"id":3,"icon":"av3.gif","averageDays":3,"createdAt":"2019-08-07 11:09:01","updatedAt":"2019-09-16 18:12:45","names":{"id":182,"availabilityId":3,"lang":"en","name":"Delivery 2 - 3 days","createdAt":"2021-11-22 21:10:29","updatedAt":"2021-11-22 21:10:29"}},"id":18242,"availabilityUpdatedAt":"2020-04-13T20:17:24+02:00","model":""},"filter":{"isSalable":true,"isSalableAndActive":true,"hasActiveChildren":false,"hasChildren":false},"unit":{"names":{"unitId":1,"lang":"en","name":"piece"},"unitOfMeasurement":"C62","content":1},"hasOrderProperties":false,"hasRequiredOrderProperty":false,"properties":[],"groupedAttributes":[],"prices":{"default":{"price":{"value":9.95,"formatted":"EUR\u00a09.95"},"unitPrice":{"value":9.95,"formatted":"EUR\u00a09.95"},"basePrice":"","baseLot":null,"baseUnit":null,"baseSinglePrice":null,"minimumOrderQuantity":1,"contactClassDiscount":{"percent":0,"amount":0},"categoryDiscount":{"percent":0,"amount":0},"currency":"EUR","lowestPrice":{"value":null,"formatted":""},"vat":{"id":0,"value":23},"isNet":false,"data":{"salesPriceId":6,"price":9.95,"priceNet":8.0894308943089,"basePrice":9.95,"basePriceNet":8.0894308943089,"unitPrice":9.95,"unitPriceNet":8.0894308943089,"lowestPrice":null,"lowestPriceNet":null,"customerClassDiscountPercent":0,"customerClassDiscount":0,"customerClassDiscountNet":0,"categoryDiscountPercent":0,"categoryDiscount":0,"categoryDiscountNet":0,"vatId":0,"vatValue":23,"currency":"EUR","interval":"none","conversionFactor":1,"minimumOrderQuantity":"1.00","updatedAt":"2022-03-03 16:16:01","type":"default"}},"rrp":null,"set":null,"specialOffer":null,"graduatedPrices":[]},"facets":[],"attributes":[]}

Catstone running lead 125 gr / black / 10 cm / 1pc
Fishing lead-free with marble
When it comes to lead-free fishing, marble holds a very special place. Marble leads for fishing for catfish and other large, shy predatory fish can be found exclusively here in the "Fishing lead-free" shop. Stone weights have many particularly great advantages compared to regular leads. Marble and other stones have absolutely no electromagnetic radiation. If you fish lead-free with marble, you are also fishing very cleverly and with the most modern materials.
With lead-free fishing with marble leads, catfish and other predatory fish do not feel any electromagnetic radiation from the lead. Marble is also an optimal substitute for lead as there are no soluble paint or metal additives. The new Taffi Tackle Catstones are aimed at all serious catfish anglers and all nature-conscious anglers among you.
With a Catstone lead you can fish all the usual lead assemblies. For example with a pose and a thick bundle of dewworms. However, please note that marble, unlike old lead, can break under certain circumstances. Catstones are primarily designed for fishing in open water or river under a float. The marble could break due to currents or hauling in too quickly on stony ground.
Benefits of marble over lead for fishing
no electromagnetic radiation
no paint or metal additives
not poisonous
very environmentally conscious
modern material
better chance of catching
highly recommended for heavily fished spots
Success in catching shy catfish
Practical examples marble lead substitute
Here you can see a new Catstone marble catfish lead and a practical example of how to use it. In terms of mass, marble leads are larger compared to regular leads in the same weight class.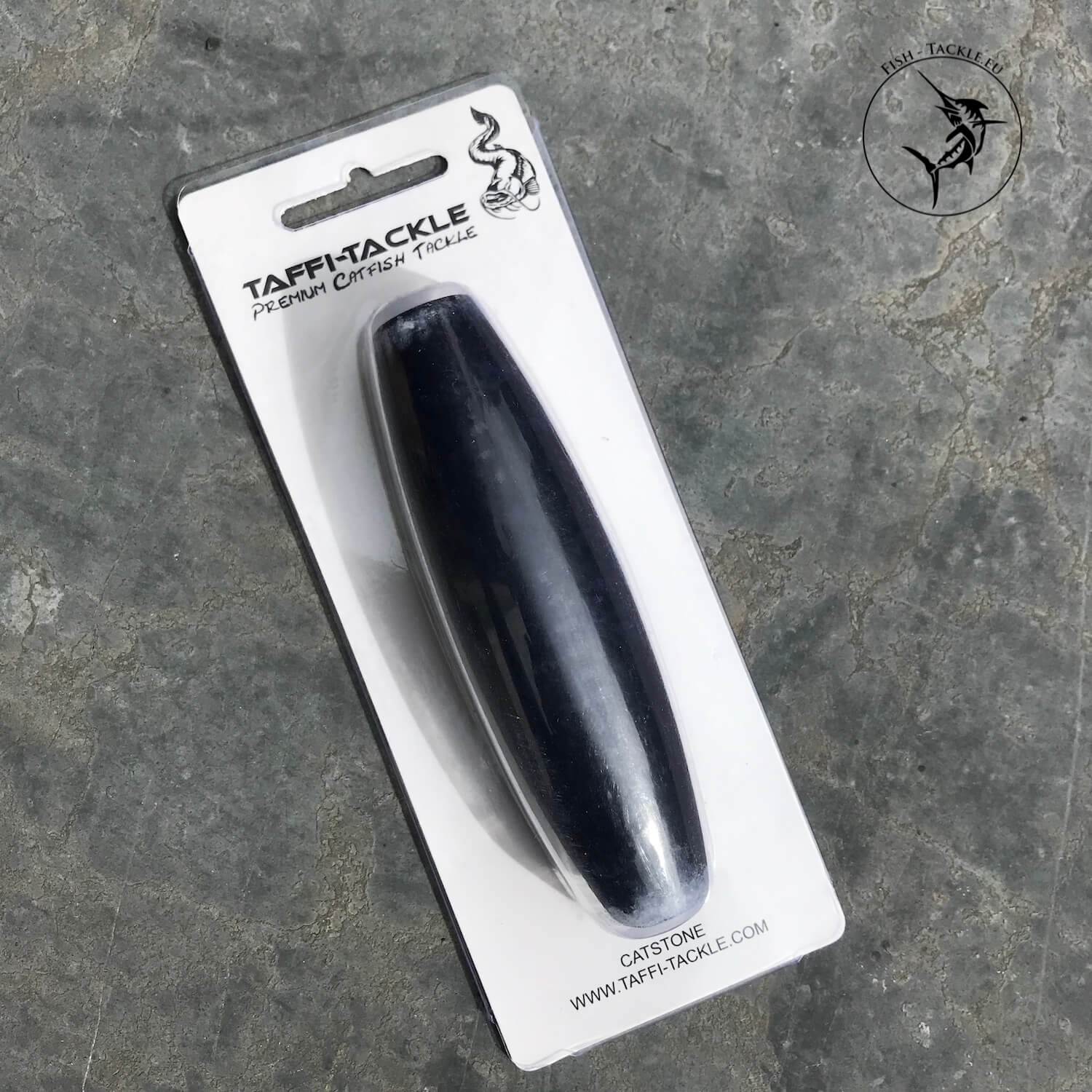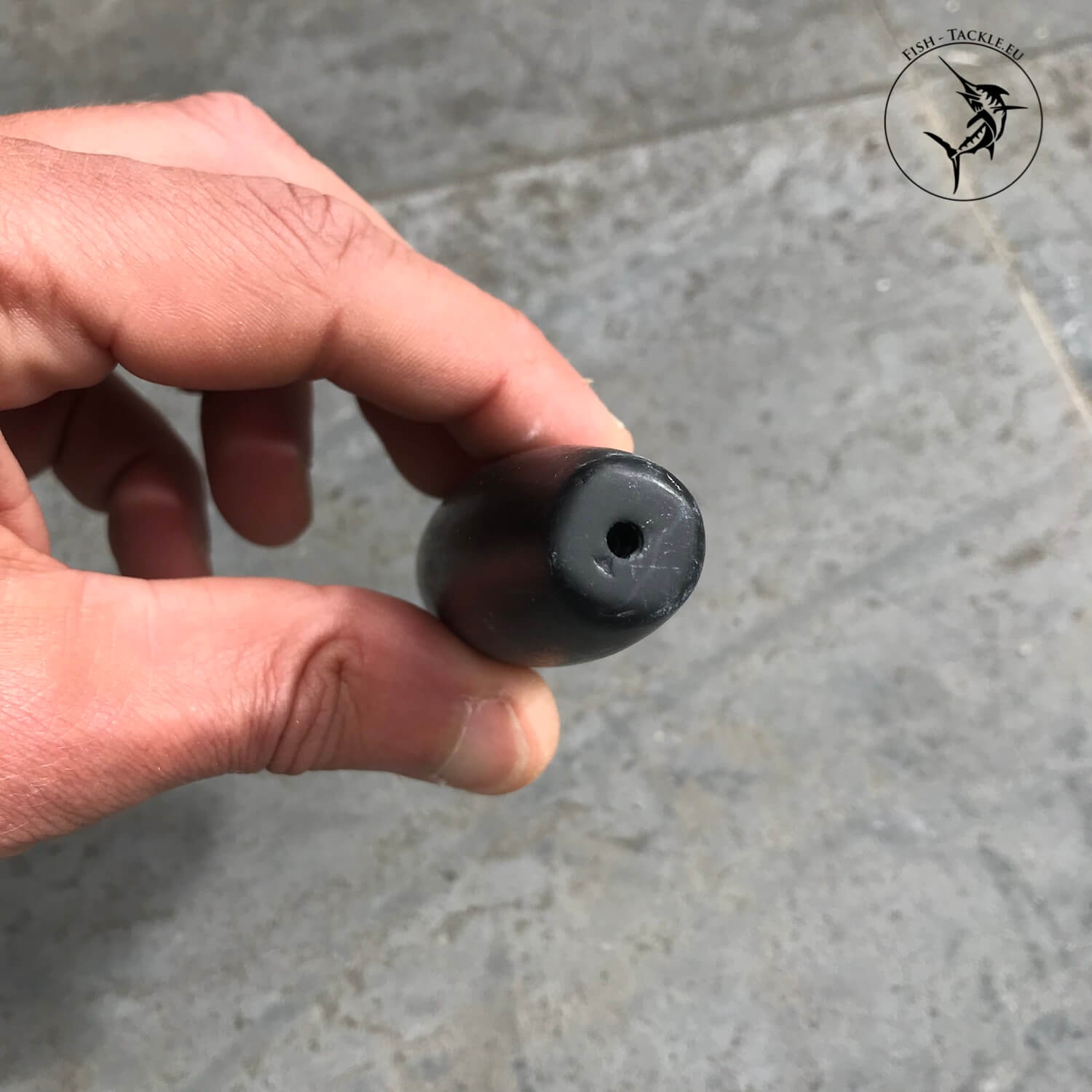 Click here to go back to all the lead-free articles for anglers. We stock Tungsten and Marble as modern lead substitutes for anglers. And the link below will take you to a category full of catfish fishing tackle. Everything that goes perfectly with the new Catstone lead replacement leads. Until we are all 100% lead-free on the water, all regular fishing leads can be ordered here.