Use the practical filter options below and search for your products in our Fish-tackle.eu shop. If you have any questions, our customer service will be more than happy to advise you. You are now in the category:
---
Search, sort and find your fishing tackle according to target fish, type of fishing and many other options.
---
LED Floaters
Modern, high-quality and inexpensive LED floats with or without bite detection, suitable LED glow sticks for the common glow stick floats and holders; plus the matching spare batteries CR311 and CR425 for LED floats and LED glow sticks. This is Fish-Tackle.eu wholesale for private customers!
Here you will find a selection of the best LED floats and LED glow sticks for night fishing. A float with a glowing antenna is a real eye-catcher on the fishing pond. LED glow sticks are an environmentally friendly alternative to old chemical glow sticks. A light float with bite detection is the latest craze.
LED Floater = CR425 spare batteries
LED Glow Stick = CR311 spare batteries
From now on your glowing pose is also a bite indicator at the same time, so you won't miss any bait contact in the dark. The modern Smart LED floats have a afterglow function that reliably shows you every tug. The advantages compared to a conventional float with glowstick are enormous. Thanks to their constant luminosity, all LED floats and glow sticks offer optimal visibility even after many hours.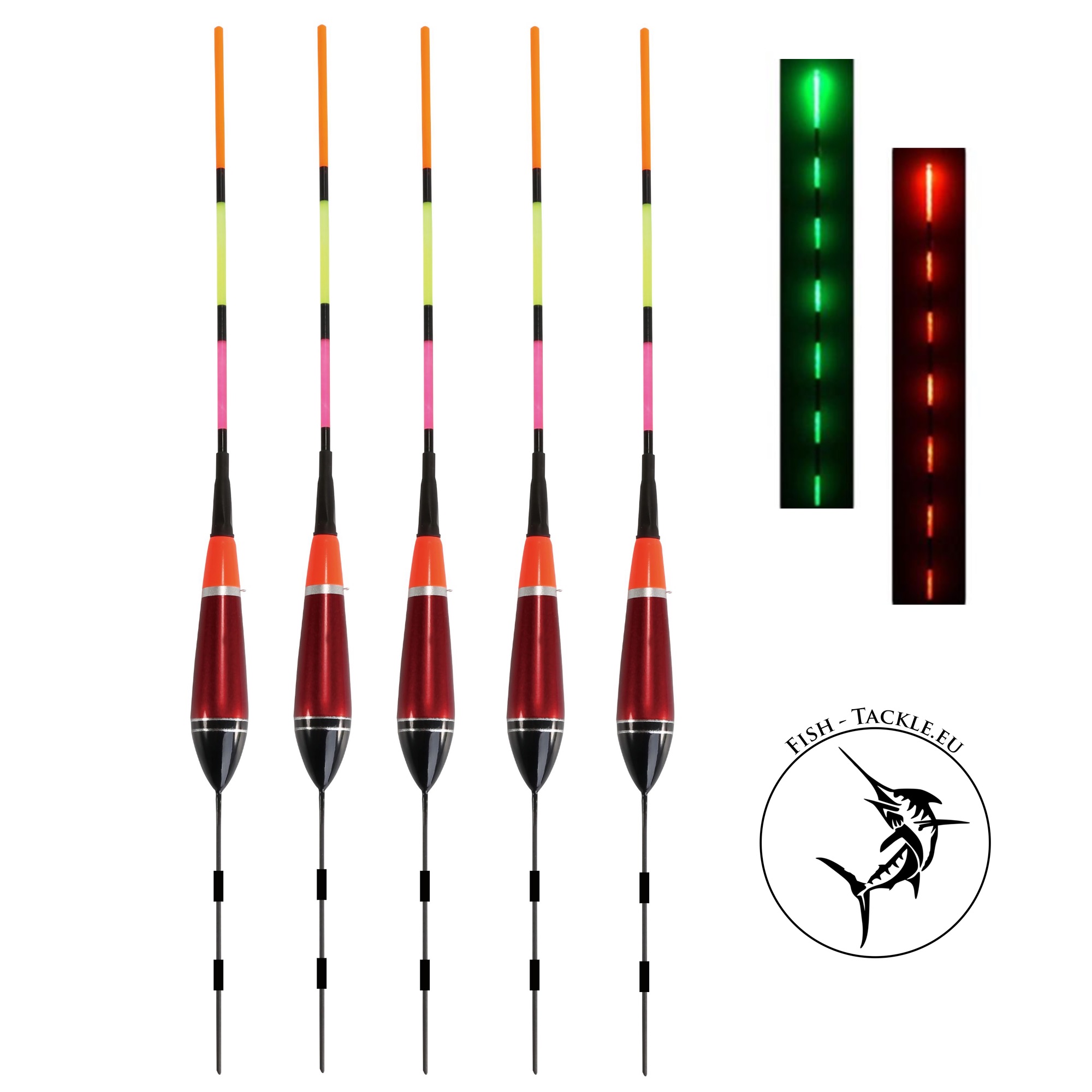 The regular service life of a 3V replacement battery for an LED float or for an LED glow stick is around 90 hours! You can toggle the new smart poses and electronic glow sticks on and off as needed. The relative useful life is equivalent to more than five sessions on the water fishing in the dark. The profit for the angler and the conservation of resources pays off within one season.
Illuminated float with bite indicator
The very latest LED night fishing floats have an internal bite alarm. As soon as a fish grabs the bait and moves it, the sensor inside the float is triggered. An optical signal provides the angler with fish contact over many meters with high luminosity. Waves, wind and currents do not activate the small bite alarm, the sensor is sensitive and only reacts to real bites.
A light float with bite alarm is equipped with the most modern waterproof technology. The floats are robust and very reliably processed. With a simple on and off switch you activate the LED poses with bite alarm. The light floats are powered by a small 3V special battery. The average burn time per battery is 90 hours. In practice we have fished different batteries well over 100 hours.
We supply light floats with bite alarms from the Paladin brand at an absolute bargain price. Our floats are manufactured according to all European electrical standards. You order quality goods that cannot be compared with the numerous Asian import products. All LED light floats with bite indicators here in the shop are guaranteed to show reliably and clearly when a fish has bitten.
Of course, a light float with a bite indicator is particularly suitable for night fishing. But the luminosity of the tip of the float can also simplify the bite indication during the day. In addition to the light-up function, the floats are painted in strong contrasting colors.
Floater with glowing antenna
Floats with a glowing antenna are available with and without a bite alarm function. If a float has only one glowing antenna, then this is usually called an LED floater. Electropose, electronic pose or light pose are other names for the regular poses with a lighted antenna.
If the floats with a glowing antenna has a bite alarm function, it usually says Smart Pose. In this case, smart means active and intelligent bite detection. A floater with a glowing antenna is very useful if you regularly sit by the water at dusk or in the dark. Unlike an old glow stick floats, the new floater can be toggled on and off. This saves energy and protects the environment through significantly less waste production. The modern floats are powered by a special battery with recycling options.
At first glance, floats with a glowing antenna, or rather a floater with a glowing antenna, are not favorable. But if you list the useful life, the advantages and the environmental compatibility, you can quickly see how big your profit is. Every night angler is quickly in love and bets 100% on the new and modern floats with a glowing antenna.
Glow swimmer float
Every glow swimmer has something magical! When dusk falls and you see the small bright light on the water, a very special time begins. Every night angler knows the unique feeling when night falls and the last of the daylight disappears. In the summer you can see all kinds of illuminated swimmers at a well-attended trout pond. It is partly reminiscent of a modern Christmas decoration.
Do you want to own the hottest glow float on the water this season? Discover the large selection of the best luminous floats from Paladin, among others. We supply you with all known types of luminous floats, including:
Floating lights for regular and new LED glow sticks
Illuminated float with built-in LED light
Luminous float for night fishing with bite alarm
Illuminated swimmer all-round and waggler floats with illuminated function
Depending on the fishing technique and the target fish, you choose the right light float for the evening on the water. Smart illuminated swimmer floats are particularly suitable for eel fishing and fishing for zander. Any little tweaks will show up in the pose tip. For carp fishing or catfish fishing it is best to use the slightly stronger regular models. Load capacities from 2 to 7 and more grams are available. On request, weighted wagglers can also have illuminated floats. Every night angler will find their favorite light swimmer float.
LED glow stick
An LED glow stick is an electronic glow stick. Diodes produce light that is powered by a small energy source. Old glow sticks were based on a different, unfortunately environmentally harmful principle. A chemical reaction took place. PS Did you know that we have also found an alternative to the old glow sticks with liquid chemicals?! In addition to the LED glow sticks, we offer new types of glow sticks filled with a safe powder.
An LED glow stick from Fish-Tackle.eu is suitable for all Paladin glow stick floats. The new glow sticks are compatible with all common old sizes for floats and glow stick holders. The Paladin LED glow sticks have an enormous luminosity and are available in various colors. Blue, green, yellow, white or red are the current colors of the LED glow sticks.
Attention, LED glow sticks are firstly not kinked and secondly can be switched on and off. The switch to switch on is activated and deactivated by a rotary movement. You can switch off the LED glow sticks at the end of the session and reactivate them as needed the next time. The burning time is at least 90 hours!
Please note that the LED glow sticks require the small CR311 stick batteries, with the LED poses requiring a slightly longer form of cheap specialty batteries the CR425. The replacement batteries are offered per 10 pieces and are very cheap in the long run compared to regular glow sticks. Another big advantage of each individual LED glow stick is the long service life and the great environmental compatibility. The batteries are 100% recycled.
With an LED glow stick you can upgrade any old glow stick float. Or do you decide for an LED float of the latest generation with built-in LED glow stick?! The new LED glow sticks are also ideal for surf casting. Furthermore, we have been able to make many active eel anglers happy with the LED lights. The tip of the season, upgrade your gear for night fishing with the new super practical LED glow sticks and LED float sets.
LED glow stick advantages
100% waterproof
Environmentally conscious and recycling possible
Turn on/off with rotary motion
Extreme luminosity
Modern alternative to chemical glow sticks
Fits all standard glow stick floats etc.
Diffuse constant luminosity
Different shades
Minimum 90 hours burn time
The enormous advantages of the modern CR311 LED 3V floats and glow sticks are obvious. All modern anglers should adapt their gear and embrace the future of bite detection for night fishing.
Electrofloat and LED glowstick quality
Anglers who have already fallen for the tempting offers from the Far East on the usual social media channels appreciate the high quality of Paladin electronic products for anglers. Here we offer you 100% certified articles, accessories for night fishing completely according to the European guidelines. We are happy if you have fun with the high-quality tackle for a long time.
With us there are no complaints and major disappointments after the purchase. Fish-Tackle customers successfully catch big fish and enjoy the high-quality items. Especially with modern technology such as LED glow sticks or Smart LED floats, the quality of the individual components is essential. Likewise, only the highest standards in production are sufficient to meet our quality standards.
For the 2022 season, we're releasing rugged, smart and eco-conscious electronic gear for all night anglers. Take advantage of the sharp offers for electro floats and LED glow sticks in real Paladin quality. LED night fishing with good equipment is more fun and saves you any frustration. In a cheap set of 5 or 10 you can buy all Smart and LED items even cheaper.
Click here to go back to all floaters. And here you will find more outdoor & sports electronics items for sportfishermen.